Salon Spotlight: Laura Kate Hair & Beauty
With a wealth of experience spanning over 2 decades in the hair and beauty industry, Laura Kate successfully established her own exquisite home salon in the midst of the global pandemic.
Mastering the art of beauty treatments and hairdressing, she balances her passion through a rewarding work-life harmony. With a thirst for adventure, travelling fuels her zest for life, while the magic of literature allows her to escape the confines of reality.
Laura Kate, over to you, tell us about yourself…
I'm Laura Kate I've been in the hair and beauty industry for over 20 years. In 2020, I set up my home salon, allowing me to spend more time on beauty treatments as well as my hairdressing. I am also an educator in nails, lash and brow treatments.
Exploring different places in our Land Rover Defender, lovingly named Phinn (@110_adventures), is one of my favourite hobbies. From traversing the landscapes of Morocco to recently embarking on an unforgettable tour of Italy, the thrill of travel fuels my spirit.
Beyond the open road, you can often find me with my nose buried in books. Reading is a true passion of mine, and I relish having multiple books simultaneously underway. In fact, my goal this year is to devour at least 60 books, immersing myself in countless worlds and stories. My love for reading runs so deep that I even have a Harry Potter tattoo!
I'm sure many of us can appreciate why you choose to immortalise Harry Potter in the form of a tattoo! Would you mind sharing what it's of?
It's an ankle bracelet tattoo, and for the HP geeks out there: it's a Firebolt Broomstick with charms hanging off it (footprints, The Sorting Hat, a sock, The Deathly Hallows, Snitch, 9/3) and "mischief managed".
How do you find books contribute to your personal or professional growth?
I feel reading allows me to escape. It's very easy when you run your own business or are self-employed to be constantly thinking about clients, stock, what to post on social media, that it can very easily become overwhelming. Being able to escape into a fantasy land for an hour or so each night, allows my mind to switch off, enabling me to get a good night's sleep and to start the day with fresh enthusiasm and ideas.
Fiction is definitely a catalyst for your creativity! Could you tell us about your most memorable travel experience?
I think the one to beat is that we have driven our Land Rover Defender in the Sahara Desert. When we initially discussed the Morocco trip I don't think I could get my head around how we would get there, my sense of geography is shocking but I knew it's a long way from Derby, so to actually see it in the yellow sand dunes surrounded by palm trees still blows my mind!
It's amazing how travel can open our minds to new perspectives and take us to places we once thought were beyond reach.
Can you tell us more about how you started your journey in the hair and beauty industry?
This question made me laugh as it's something I still talk about with my clients. I never knew what I wanted to do and still don't know if I want to be a hairdresser! I got a Saturday job at 15 and my boss encouraged me to train at 18 (when I was at a bit of a loss of what to do with my life), I think she saw a potential in me. I then changed salons and got introduced to the world of beauty and that's where I fell in love with the industry.
Sometimes life leads us down unexpected paths that turn out to be the most fulfilling ones!
What motivated you to start your own home salon in 2020?
Covid was a turning point for me. I have never suffered with any kind of mental health issues in my life but going back into a busy salon after the first lock down really shook me. I didn't know at the time if I had fallen out of love with my job or was suffering with anxiety trying to stick to all the rules and regulations put in place. We had discussed wanting to travel more so it seemed like a sensible idea to set up at home, where I could be in complete control of who came through the door, my work-life balance and allow my creative side to flourish.
3 years later and it's been the best decision I have ever made - I still love my job and my clients.
Clearly, the decision to set up your own home salon has been a game-changer, allowing you to regain control of your work-life balance and nurture your creative side.
We're curious to know what inspired you to pursue a career in education within the beauty industry?
Teaching people has always come naturally to me, I can think outside of the box in order to make a student or fellow colleague understand something, so during the second lockdown, I studied for my AET.
It's so easy to get lost and sucked in to the cheap online course that we (GSG Acquired) wanted to provide small tailor-made, fun and interactive classes for our students. I've been on many courses where the educator just reads out a manual or shows a video. The beauty industry, especially the nail side, has been under fire lately and I want to be part of a positive change and provide in-depth and current education.
You're absolutely part of the positive change – we love how the beauty industry thrives when we empower each other with education!
Do you currently have a favourite LYCON product?
It's hard to choose between the Pinkini range and the Lyco'pedi range – both do exactly what they say, smell amazing and look smart in my salon.
I've been using the Lyco'pedi range for a few months now, I really like the way the products layer on to the feet, I decided to incorporate hot mitts it to my routine when removing the scrub and mask and now advertise it to my clients as a 'facial for your feet'! I also love the scent as it's nice and fresh without being overly powerful.
Your 'facial for your feet' concept is an indulgent twist on a standard pedicure offering. Thinking outside-of-the-box like this could undoubtedly inspire others to explore the Lyco'pedi range and elevate their own treatments.
Are there any emerging trends or innovations in the beauty industry that you find exciting?
This is a difficult one for me because I feel like I want to rebel against trends. I feel across the hair and beauty industry the days of everyone having the 'Rachel Cut' whether it suited them or not has gone. I'm a big believer in 'you do you' so that's the trend I'll always back!
I think this could be a very exciting time to be in this industry with product make up potentially about to have a change up with clients being more aware of the chemicals they are using, how they are made and tested.
It's refreshing to hear your perspective on embracing individuality and rebelling against current trends. Supporting the idea of 'you do you' aligns perfectly with enabling clients to express their unique personalities and preferences through their chosen styles and treatments.
With so much creativity and dedication invested in your profession, what strategies do you employ to ensure you have time for self-care and personal pursuits?
Boundaries!! It's so easy when you work for yourself to fit that extra client in or work on your day off. I have set working days and times, and I plan my time off well in advance allowing my clients to work their appointment around my work schedule. Plan admin time within your working day and also have someone that you can go to for help!
GSG Acquired have also set up a group on Facebook for hair and beauty therapists that work alone, it's called Home Salon Network.
I met Jamie and Soraya during Covid and we speak to each other every day, we wanted to create a group for people where you can ask anything and not be judged – basically a bigger version of our little WhatsApp chat.
Connecting with like-minded professionals provides a valuable platform for sharing experiences, seeking advice, and fostering a sense of camaraderie, especially during challenging times like the pandemic.
Looking ahead, what are your goals and aspirations for the future, both personally and professionally?
(I'm going to keep hinting on this one!) I would love to educate for LYCON but at the moment my home salon hasn't got the room so fingers crossed on that one.
My current project along with Jamie and Soraya is to expand our education platform GSG Acquired with more courses, more educators and to continue working with some fantastic brands.
Continued education is something I think is important so I would like to do some refresh training in brows, waxing and haircuts.
Personally my goal is to read 60 books this year! I'm currently on 43.
While the space constraints for training for LYCON may present a current challenge, with your determination and dedication, we hope you'll find a way to make it happen in the future as we'd love to work alongside you.
Finally, what words of wisdom or advice would you give to aspiring professionals who are just starting their journey in hair and beauty?
Ask "why?" Before you buy the expensive piece of equipment or tool, are you being influenced or do they genuinely like it, don't buy the first thing you see. Do your research on courses and products.
Don't let social media get to you! 10,000 followers doesn't mean bums on seats. Social media is free advertising, use it but don't compare yourself to others.
And always ask for help!
Laura Kate's path in the hair and beauty industry is marked by unwavering determination, boundless creativity, and an unyielding desire to drive meaningful transformation. Her remarkable journey serves as a beacon of inspiration for fellow professionals in the field. Embracing individuality and exuding a positive outlook, she becomes the catalyst for profound personal and professional growth, igniting a sense of empowerment and progress in those she encounters.
We hope our readers are inspired by Laura Kate's story, finding the courage to embrace their uniqueness, channel their creativity, and fearlessly pursue growth in their own professional and personal endeavours.
Website: laurakatehairandbeauty.square.site
Phone: 07746137463
Address: Alvaston, Derby
Instagram: @laurakatehairandbeauty
Facebook: facebook.com/laurakatehairandbeauty
Salon Spotlight: Rachel Penny, W...
Jun 08, 23
Today, we're shining the spotlight on the fabulous waxing specialist of Waxilla, Rachel Penny. Discover the inspiring story of how Rachel and her three daughters have turned their passions into a...
Read more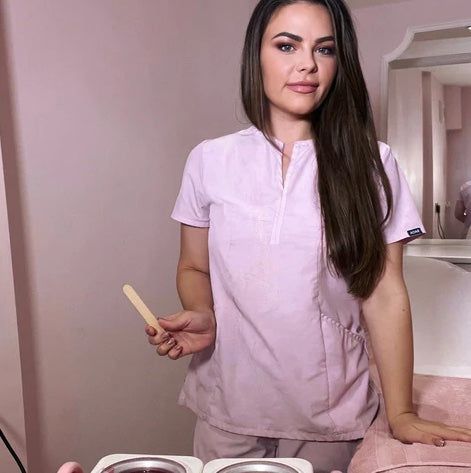 Beauty
Salon Spotlight: Jess McLeay AKA...
Aug 16, 23
Meet the Waxing Extraordinaire: Jess McLeay AKA Dr Wax! With an impressive 13 years of experience within the beauty industry, Jess offers an array of waxing services, ranging from the ever-popular ...
Read more