Salon Spotlight: Waxing Perfection
It's that time again! It's been an incredibly tough year for beauty salons which is one of the reasons we decided to launch the Superstar Spotlight. We want to showcase our amazingly resilient Lycon users, give the whole community a little boost and demonstrate that hard work really does pay off!
For this particular feature, we asked to hear from you - the Lycon lovers - to nominate your go-to salon/waxer. This time it's the turn of the self-proclaimed 'Waxing Queen', Paige Gregory. 2020 was a tough year for a lot of people, but when the salon Paige had worked in for over 6 years went into liquidation due to COVID, she took it as the kick she needed to launch her own waxing empire. When we put out the call a couple of months ago on social media for clients to nominate their favourite waxing superstar, it was hard to ignore the sheer volume of nominations that Paige received!
In fact, here are just a small handful of her glowing reviews:
"I travel over an hour to keep going to Paige for my waxes because I couldn't see myself going anywhere else"

"Super proud of the waxing queen for getting us all through this time and what she has achieved"

"I have been waxing for over ten years now at different places... I can't stress enough how good Paige is"

"Paige is so friendly and can make anyone feel at ease - a genuine delight and the least painful wax I've ever had"
See what we mean? She sounds incredible! We just had to speak to her ourselves and see what motivates her, how she is doing post-lockdown and if she has any fantastic advice for our lovely readers. P.S if you have a moment and want a little chuckle, we also recommend checking out her wax-related instagram reels @waxing_perfection
So without further ado, take it away Paige...
Hello, I'm Paige from Staffordshire and have been a waxing specialist for over 6 years. I've always had a huge passion for beauty and my career first started with my Saturday job when I was 13. The day after the last of my GCSE exams, I embarked on an apprenticeship in a salon. 
I am constantly trying to develop and build on my existing skills; competing in a nationwide Beauty Therapy and Waxing competition for my county, acquiring my vocational teaching & assessing qualification alongside working full time and attending workshops in order to learn how to provide more luxurious services to my clients.
When I'm not waxing and developing my small business, I support my partner and family in the daily jobs on their dairy farm! It's very different from my beauty career, but it keeps me active (I always joke and say it saves me on a gym membership!) and I get to enjoy great outdoors. 
I opened 2 weeks after I lost my job in the start of October 2020; unfortunately the salon where I'd worked for 6 years fell into liquidation and we were made redundant. I was away on holiday in Cornwall when I received the phone call from my boss, and it was there on the Cornish beaches that I made the decision to go solo as a waxing queen! I am aware that the beauty industry is becoming more segmented and specialised, you have your nails techs, makeup artists and eyelash technicians - but found that there wasn't any specific waxing specialists locally.  So, I dusted myself off and despite the very risky climate we were living through, I decided to throw everything into pursuing my one big passion – Waxing.
Waxing is something that over the years I have developed an outstanding reputation for, with several of my clients travelling great distances to see me. It is my main love and passion within the beauty industry and something I really thought my area needed. Et voila, Waxing Perfection was born! I knew I wanted a name that was short, sweet, and memorable. I offer perfection with my combination of perfect products (LYCON of course 😉) and perfect waxing techniques. 
Oh go on, do you have a top waxing tip to share? 
My favourite waxing tip (for hot wax areas, underarm, bikini etc) is to ensure you always have a good "hair free" tab on well-oiled skin which allows for a quick and comfortable wax removal, without any of the uncomfortableness of "picking" the lip of the wax (I'm wincing at just the thought of that - OUCH!). 
How did you hear about LYCON, what are your favourite products and why do you love us 😉? 
I fell in love with the products and the company's ethos after using it at my previous salon! LYCON's ongoing education and support cannot be rivalled. Once my clients have experienced a Lycon wax, they can't go back - they love how comfortable the waxing treatment is. LYCON has aided my waxing reputation, and allowed it to thrive. I knew when setting up solo, continuing to work with Lycon was non-negotiable - I needed to uphold my "waxing queen" reputation by using the best and most luxurious wax. Hands down my favourite LYCON professional product is the "Pre-Waxing Oil". It's my hero product!
Do you have any advice for other new beauty business just starting out? 
Be confident in your ability, you are the trained professional. I strongly believe that education is key. Both as a professional to ensure you are providing up-to-date treatments with the very best results, as well as educating your clients about the hair cycle and the unbeatable benefits of regular waxes (even through the winter) which will help to grow your regular clientele all year round.
Remember that social media can be your best friend and is often more powerful that your physical shop window. Aim to post on social media at least 4 times a week - each post should be either: education, entertaining, inspiring or promotion. 
How do you attract loyal customers and how do you retain them? 
Building a client base can be TOUGH! But with continues hard work, ongoing education (I'm a BIG believer that you can never stop learning) along with a deep passion and enthusiasm; this will shine through. With waxing, it's difficult to share and promote pictures of your work, so I utilise my social media platform in creating entertaining, light-hearted wax comedy that engages my clients, teamed with education around the benefits of waxing, and in particular LYCON waxing. During lockdown 3, I tasked myself with getting my head around "reel" videos; a 15-30 second video which clients loved to watch, whether they were funny or educational. With also showing my face in these videos, and my in social media full stop - I found they made me more approachable to potential new clients with showing me as a "person" and not just a professional - breaking down any possible daunting barriers to new clients. 
In addition, I offer a "recommend a friend" scheme where if they recommend a friend to me, both my existing valued client and the new client receives a £5 voucher. I find the token gesture shows how much I appreciate my amazing clients and also is an incentive for building my business. I find recommendation is the best form of advertising - a glowing review and recommendation in my eyes is by far the best compliment.  Although this is a new scheme I've recently launched, this has already proved very popular!
What or who inspires you? 
I've always loved talking & building connections and helping to empower others by making them feel their most comfortable and confident in their own bodies!  Giving people a solution to a problem that comprises their self-esteem is a great source of happiness for me. My biggest inspiration is my partner. He really is the most hardworking and selfless person I have ever had the pleasure of meeting. He amazes me on a daily basis of continues work ethic and really is my absolute rock with his ongoing love, help and support.
How have the last few months been, since reopening? 
It's been super busy which I'm so unbelievably grateful for! After nearly 4 months off, my feet were well and truly itching to get back to what I love and to see all of my amazing clients again!
Finally, do you have any words of wisdom you'd like to share? 
Always remember, your focus determines your reality. "Everyday grow and glow."
What Should I Expect as a First ...
May 26, 21
Picture: Heather Goodwin, Lemongrass & Ginger Thinking about getting waxed for the first time? Fantastic choice! Your first wax will always be the most daunting, but that's why we are here...
Read more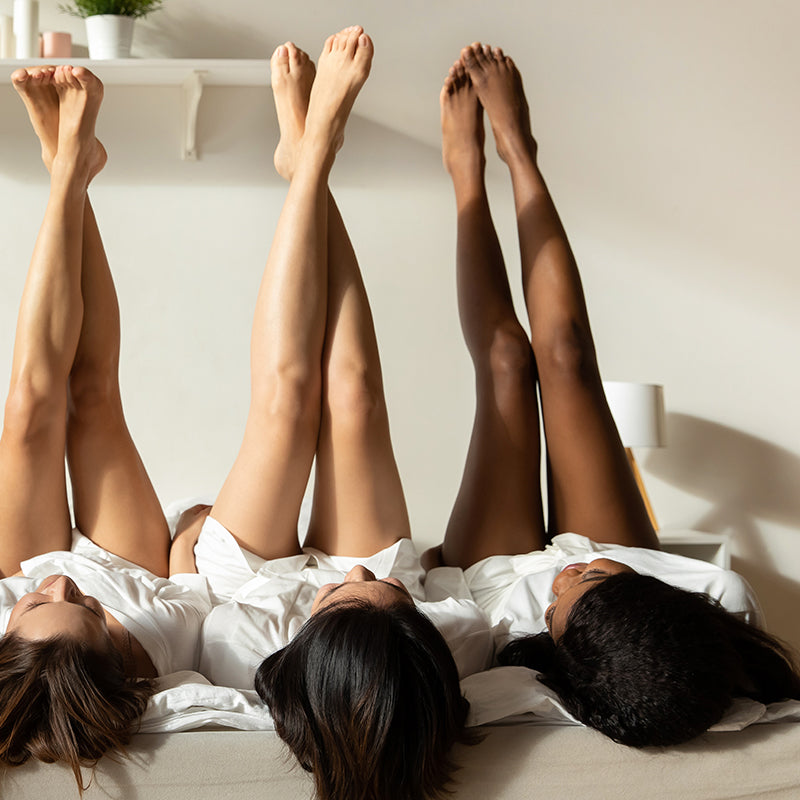 Your Guide To Happy, Healthy Pos...
Jun 24, 21
Whether you are a seasoned pro or a waxing novice, following your therapists aftercare advice is absolutely crucial to ensuring that you stay smooth and bump-free for as long as possible! We know ...
Read more