Salon Spotlight: Gemma Bailey, Beautistic
Introducing Gemma Bailey, the celebrity waxing specialist and contour tanning master of Beautistic, based in the charming market town of Tonbridge. With years of experience in the beauty industry, Gemma has developed a unique approach with her intimate treatments, emphasising the importance of self-love and self-care. Discover how Gemma is breaking the stigma and celebrating the beauty and diversity of the vagina – something that deserves a bit more attention and effort from all of us!
Gemma, tell us a little about yourself…
For nearly 13 years now, I've had the privilege of working as a waxing professional. As a single mum, I am fully committed to providing the best for my son and have poured my heart and soul into building a successful career in the beauty industry.
I trained in beauty therapy at West Kent College and achieved distinctions in every module. Working on reception at a salon at the time, I was extremely lucky to be sent straight on to the LYCON training courses. Since then, I have loved every day of it!
After having my son, I decided to become my own boss and specialise solely on waxing and tanning. I love what I do – I make women fall in love with their bodies again.
So, what inspired you to become a waxing specialist and how did you get started in the industry?
As soon as I passed my waxing module at West Kent College, I started training with LYCON. After having previous waxes, I realised that this was the only way people should be intimately waxing. I had such awful experiences in the past where my skin was torn from strip wax and scalded by cheaper hot waxes.
I'm a huge believer in trying to make women feel good about their bodies and am trying to raise awareness that your vagina is totally normal. I've always said it's like a fingerprint: there are no two the same.
Agreed – making people feel good about themselves is the best thing about the beauty industry! Do you have any advice for someone who wants to start a career in waxing?
The advice I will give to someone that is interested in becoming a waxing specialist is to train with a prestige brand. LYCON is the only brand that I have found that's not only virtually painless but also massively reduces the hair growth after just one wax!
The main trick I learnt from training with LYCON (other than oiling the skin first to prevent damage and minimise sensation) is that you must always wax within the bikini area first, then work from the bottom area up towards the lip area. With this method, you'll always have a hair-free area to pull from, stopping any snapping and allowing the treatment to be more comfortable for the client.
You need to be confident within yourself as most clients are extremely nervous – it is a very delicate area and so many people have been put off waxing from bad experiences.
Speaking of confidence, let's talk about your approach to vaginal body positivity. How do you address societal beauty standards with your clients?
The main reason why I love what I do is because I give women the confidence to love their own bodies again and understand that everyone is different.
The porn industry is so accessible these days and that is not a real representation of what the vagina looks like. I always stress that women undergo a lot of procedures for their vagina to look like this. It's actually more common to have an outer labia (majora) than not.
I also love the fact that women start waxing for themselves, rather than for their partners, husbands or boyfriends. I love making women feel confident about their bodies!
Can you share any personal experiences or insights that have shaped your own views and/or have influenced your approach to working with clients?
I have had friends who have removed all of their labia as they did not like the look of them, but after this procedure there were many complications. I can't stress enough to women that we are all designed differently and that we should embrace and love our bodies. It's about confidence, not what you look like.
Also, from a previous intimate wax, I was asked to be put on all fours which can be very embarrassing. Bringing the knees up to the chest is a much better way of positioning your client without causing them to feel awkward or even degraded. So many women think waxing the bottom area must be the worst part of my job, but I always tell them it's actually my favourite part! It's the only part I can't wax properly all by myself. Everyone has hair around their backside and it's nice to be able to remove it to make you feel sexy again.
So what would you tell clients who may struggle with body confidence or be embarrassed before a treatment?
I'd say that I have waxed over 60,000 vaginas and no two are the same.
What can individuals and the beauty industry do to promote self-love when it comes to vaginas?
Sharing body positivity posts – I find this helps a lot of women to be more confident in their bodies.
Gemma's focus on the body positivity is all about promoting confidence and helping women feel comfortable and empowered in their own skin. Her clients rave about her and the positive impact she's had on their lives. With 5-star reviews all around, here's just a taste of what her clients have to say:
My waxing journey literally began with Gemma because of the nerve damage I sustained during my C-section. Couldn't bear the feeling of shaving down there and after getting waxed with Gemma a year and a half ago, I've never looked back since and I have got her undeniable skill to thank! Right from the first appointment she made me feel so at ease. I hated the way my body felt after having my baby and she's changed my life as cheesy as it sounds, I'm so grateful! - Sabrina W.
Wish I could vote more stars for Gemma, she is so empowering and the loveliest person ever. Only ever had an amazing experience with my intimate waxing and wouldn't go anywhere else!! - Katie B
Gemma is fantastic!! Cannot recommend her enough, she makes you feel comfortable from the moment you walk in, not forgetting her fantastic waxing - completely pain free. - Molly G.
The best wax experience I've ever had. I've been going to Gemma for around a year now and the results are just flawless every time. She makes me feel so relaxed and it's virtually pain free. She gives me so much confidence and is brilliant at what she does! Would never go to anyone else now!! - Amber M.
Absolutely faultless every time and to top it off Gemma couldn't be a kinder person. Therapy and glow up all in one. - Megan B.
Gemma proves the "Designer Vagina" doesn't need any nips or tucks, but instead it simply needs the love and care it rightfully deserves. A customer favourite of Beautistic's unique offering is the Vajacial Mask – this cooling jelly mask is applied to the intimate area after waxing, a truly indulgent treatment to calm and soothe the skin at the same time as enjoying a hand and arm massage while the mask is setting.
We hope Gemma has inspired our readers to embrace their bodies fully and for all beauty therapists to continue extending this body-positivity to their clients.
Let's join Gemma in empowering women to love their bodies!
Website: https://www.fresha.com/a/beautistic-tonbridge-uk-55-turner-road-ahc0zi3l
Email: gemmathebestbailey@hotmail.co.uk
Phone: 07725698458
Address: 55 Turner Rd, Tonbridge, TN10 4AG
Instagram: @_.beautistic._
Facebook: facebook.com/beautisticbeauty
Not only a passionate waxing and tanning specialist and a body-positivity inspiration, Gemma is also the creator of TheBB.Collection, home of The All in One Glove – an exfoliating mitt which removes ingrown hairs and fake tan. Discover TheBB.Collection here:
Website: https://thebbcollection.shop/
Instagram: @thebb.collection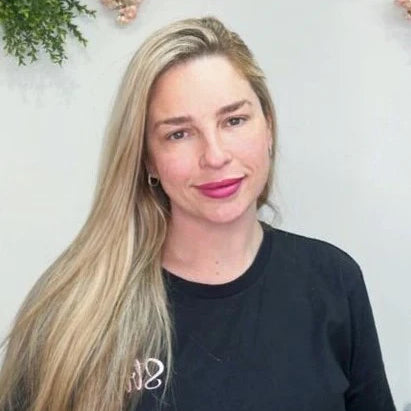 Salon Spotlight: Stripped by Kate
Apr 25, 23
Today we're speaking to Kate, hair removal specialist and proud owner of 'Stripped by Kate' based in Farnborough. Kate's passion for providing exceptional beauty services from the comfort of ...
Read more
Salon Spotlight: Rachel Penny, W...
Jun 08, 23
Today, we're shining the spotlight on the fabulous waxing specialist of Waxilla, Rachel Penny. Discover the inspiring story of how Rachel and her three daughters have turned their passions into a...
Read more