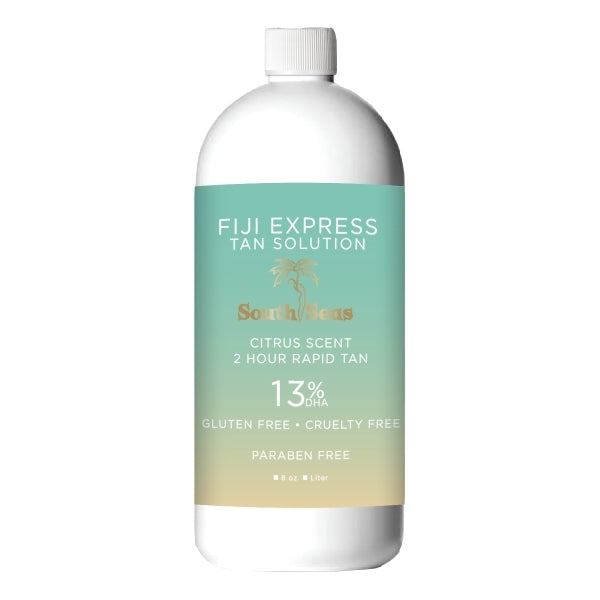 Fiji Express Tan - 13% DHA
---
Alcohol-free and ideal for all skin types. 98% natural, citrus scent, paraben-free.

*Note: It is imperative that the client is aware that it still takes a minimum of 8 hours for development, i.e. if they shower in 2 hours, full color won't develop until 6 hours later. Leave on 2 hours for a natural glow, or 3 hours for a darker color.

Our solutions are made fresh and we encourage you to buy a three month supply at a time. One liter will yield 20-25 tans; one 8oz will yield 4-6 tans. All South Seas Tanning Solutions are pH-Balanced and do not require barrier cream.

Sizes: 1 Liter 

Recommended for: All skin types, discerning clients, and the convenience to shower in 2-3 hours. 13% DHA, 98% natural, citrus scent.
 
Cruelty-free. Never tested on animals.
Apply 1-2oz (50mL) approximately 4"-5" away from the skin with any HVLP or airbrush equipment.
Shower in 2 hours for a light color, or four hours for a darker color. Takes 8 hours from application for full development.
Note: For clients with lighter skin tones, we ask that they shower in 2-3 hours or undesired results (orange color/blotchy fading) may occur. For clients with darker skin tones, we recommend waiting 4 hours before showering.
Choose options