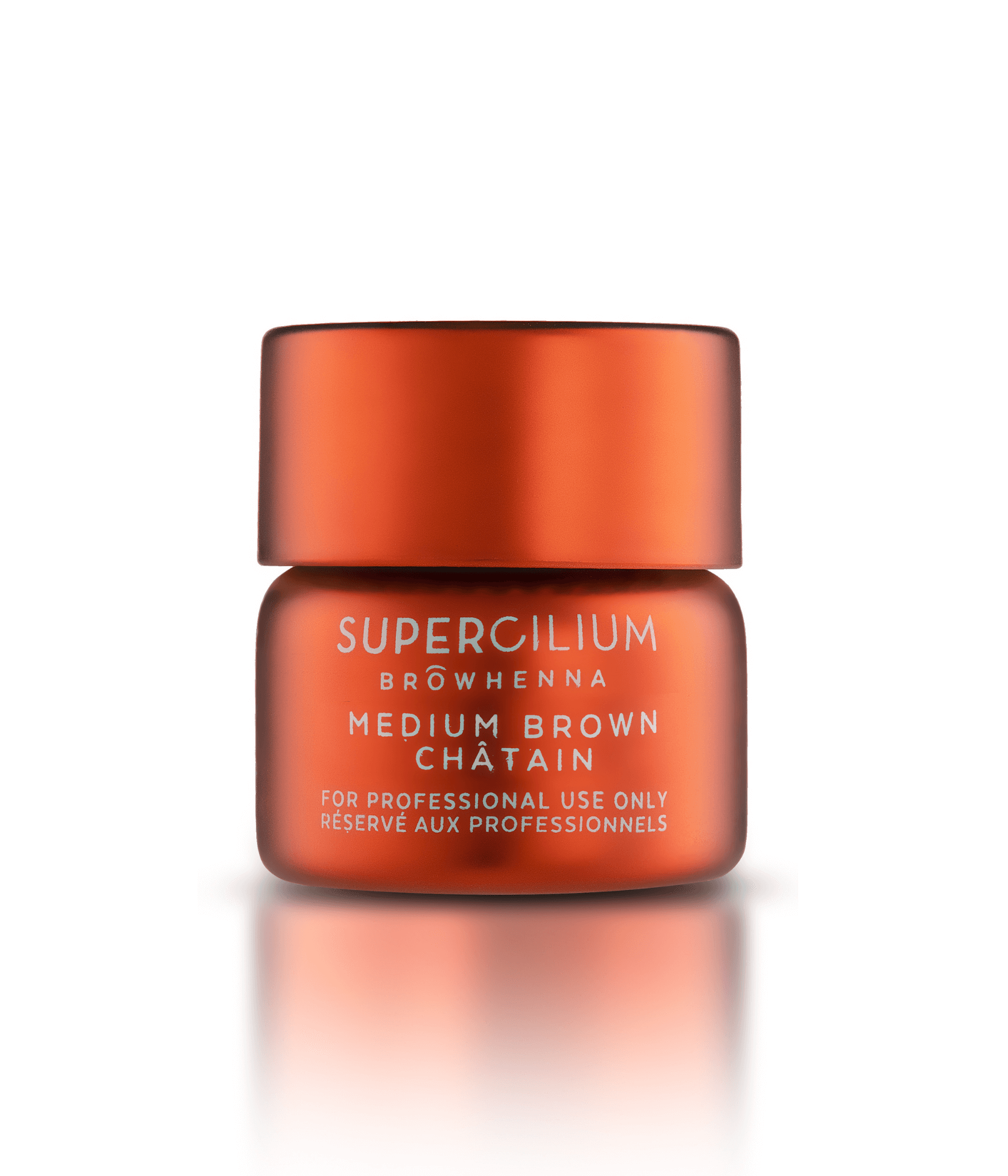 Medium Brown Henna
Our most popular Brow Henna shade
---
Supercilium offers a great alternative to regular brow tinting. The composition of Supercilium eyebrow dye is based on the latest innovations in hair colouring. Thanks to a careful selection of pigments, this henna does not leave a red glow on skin or hair. Henna has been used for thousands of years to transfer colour onto skin, leaving a sophisticated tattoo effect and well-defined brow.

One jar contains 7 grams, which is up to 56 applications.
Skin: up to 2 weeks. Hairs: Up to 6 weeks. 
Remember to always perform a patch test 48H before the treatment

1. Mixing ratio: one spoon of Supercilium medium brown Henna powder with 15 - 20 drops of Supercilium Colour Developer. Most beauticians use half a scoop for one henna treatment. Stir well until a smooth substance is achieved. It's important that the henna is not too runny, nor too thick.

2. Use the Supercilium Prep Peel Gel to get rid of excess sebum, make-up buildup, and dead skin cells to ensure the longevity of Brow Henna treatments. Apply one drop on each eyebrow, massage it gently into the brow for 15 seconds and carefully remove it with a cotton pad with Supercilium Pro Cleanser.

3. Apply a layer of henna with an angled brush. Press/stamp the paint into the eyebrow until all skin is covered, back to front as well. Make sure to create sharp lines. Correct small mistakes using a cotton swab with Supercilium Colour Corrector.

4. Remove product at the inside of eyebrows after 3-5 minutes for an ombre effect, with a damp-not too wet-cotton pad. If still too light, reapply and leave on for another 3-5 minutes.

5. Remove the rest of the henna after 10-20 minutes. If you want to correct or lighten the brow colour, use the Supercilium Colour Corrector again by gently wiping over recently painted brows with a cotton swab.
Sodium carbonate peroxide, Cellulose Gum , Magnesium Sulfate, P-Aminophenol, m-aminophenol , Citric Acid, Henna, P- Phenylenediamine , Sodium lauryl sulfate, Silica, Resorcinol, 4-amino-2-hydroxy toluene, 1-naphthol, Aloe barbadensis Leaf Powder, Simmondsia chinensis Seed oil, Picramic acid,Toluene-2,5-diamine sulfate, 1 ,5-naphthalenediol.
Choose options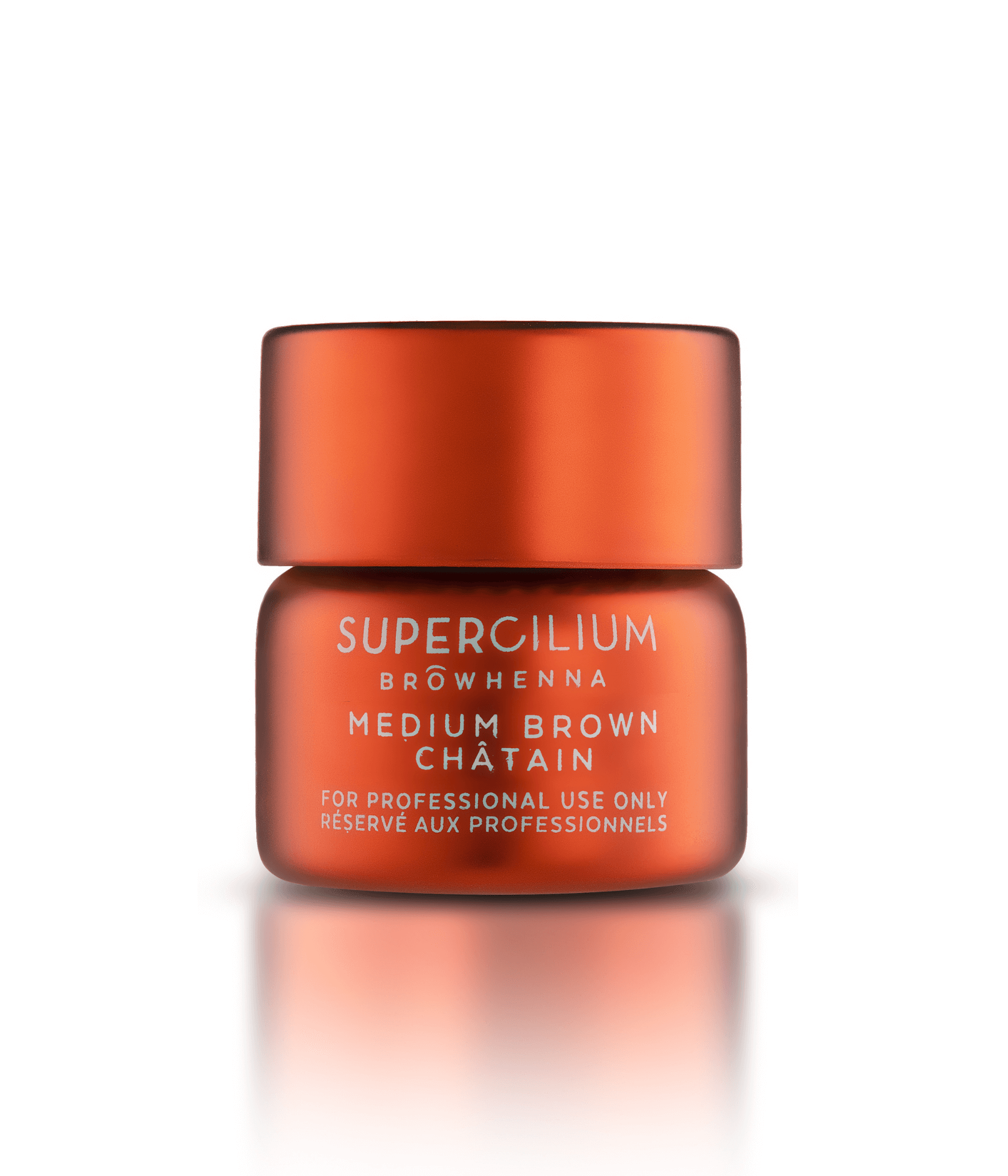 The best
Only henna I've used and there's no reason to try another brand. Consistently great results!
Utilizo Medium, Light, Dark y Black!
Los amo! Son los mejores pigmentos que he utilizado, tienen un efecto como natural, amo combinar el dark con el black! Es mi favorito
Excelente súper recomendado fácil aplicación y mayor duración
Amazing Product!!!
The delivery was really fast! the product amazing ...i will go for another order really soon.
I love it
I'm new to using this brand and I absolutely loved it !